Innovative products and services
Nothing is more important to us than private and business customers who are happy with our products and services. They must be able to trust in them blindly day and night. Therefore, we are continuously investing in the quality of everything that we offer. And we are aiming for the best possible experience for every customer. Innovation and sustainability go hand in hand in this product development.  
Satisfaction and connection for our private customers
Achieved in 2021

1.9 million active Ziggo Go users every month (53% of our customers)

1.7 million customers with the newest generation TV watching experience

1.2 million Smart Wi-Fi pods provided to customers
STRONG HOME-BASED (NET)WORK WITH SMART WI-FI
In 2021, a stable internet connection was a lifeline for our customers once again. And due to the frequent homeworking, home learning and video calls, good Wi-Fi coverage indoors was essential. We therefore invested heavily in our new Smart Wi-Fi products in 2021 that enable every resident to have the best possible wireless internet connection anywhere in the house. In the same year, we were able to provide almost 1.2 million Smart Wi-Fi pods to customers. Our ambition is that at least half of our customer base will have given their home network a boost with these pods by the end of 2022. These Smart Wi-Fi devices are a good example of how our products are becoming more energy-efficient all the time and contain more recycled material. 
THE ESIM IS SUSTAINABLE AND SMART
First, they became much smaller. And soon nobody will need them anymore: those all-too-familiar SIM cards. Because in 2020, we introduced the eSIM, a digital successor to these plastic rectangles, and last year we rolled it out further. The eSIM is built into the smartphone and contains all the details that the device needs in order to connect to the network. One practical advantage for users is that with this solution, they can also link several contracts, such as a private connection and a business connection, to one device. This innovation is also more secure, because the SIM is not accessible from outside. Removing the physical SIM cards also saves raw materials and we very much welcome that. 
The way in which people partake of information and entertainment is changing rapidly. 27% of households already have several streaming subscriptions. They use all kinds of different screens for this, wherever and whenever it suits the viewer best. We are responding to this in our entertainment. We are committed to providing the broadest and strongest possible complete range of content, in which we also integrate other streaming services. Customers can effortlessly watch or do what they want with one click or one voice command via our platforms and interfaces. In this way, we are making the enjoyment of TV and online content smarter, easier and more personal each time. 
Together with our partners, we provide the best products, services, content and technology. With our rich and partly exclusive range of entertainment and sports, we bring both relaxing and stirring experiences into our customers' living rooms. It is no coincidence that VodafoneZiggo's goal is 'enjoyment and progress with every connection'.

Robin Kroes
Executive Director Strategy, Insights & Integration
In 2021, we made that next-generation TV viewing experience possible for 1.7 million customers, thanks to the Mediabox Next and an update to the Mediabox XL. The Mediabox Next is much more compact and its energy consumption is much lower than that of its predecessors, as a result of which we are achieving great results in terms of our sustainability ambitions. An important role is reserved for our successful app Ziggo GO, which we are continuing to develop and promote. This service already had 1.9 million active users in 2021.  
AN EXTENSIVE RANGE OF SPORTS
The thrilling Formula 1 season 2021 – in which Max Verstappen seized the world title in the final minute – was available for viewing exclusively on Ziggo Sport. From 2022, the streaming service Viaplay has the F1 broadcasting rights. We are collaborating with them in order to give our customers a discount and offer highlights. At the same time, we are building up an increasingly wide range of sports content via Ziggo Sport. In addition to this, we have included the sports channel ESPN 1, which offers a wealth of coverage, in our standard package for no extra charge.  
How can we make things even nicer for our customers? One of the answers to this question is our customer programme Priority, which we launched in October 2021. Vodafone and Ziggo customers receive exclusive access and deals via Priority, such as priority when buying tickets for concerts, festivals, football matches and other events. We are collaborating in this programme with Ajax, Ziggo Dome, Mojo and The Park Playground. This programme is a bonus on top of our existing entertainment range. Of course, these were the very types of outings that were only occasionally possible during the coronavirus pandemic. Our goal is therefore to draw full attention to this programme in 2022.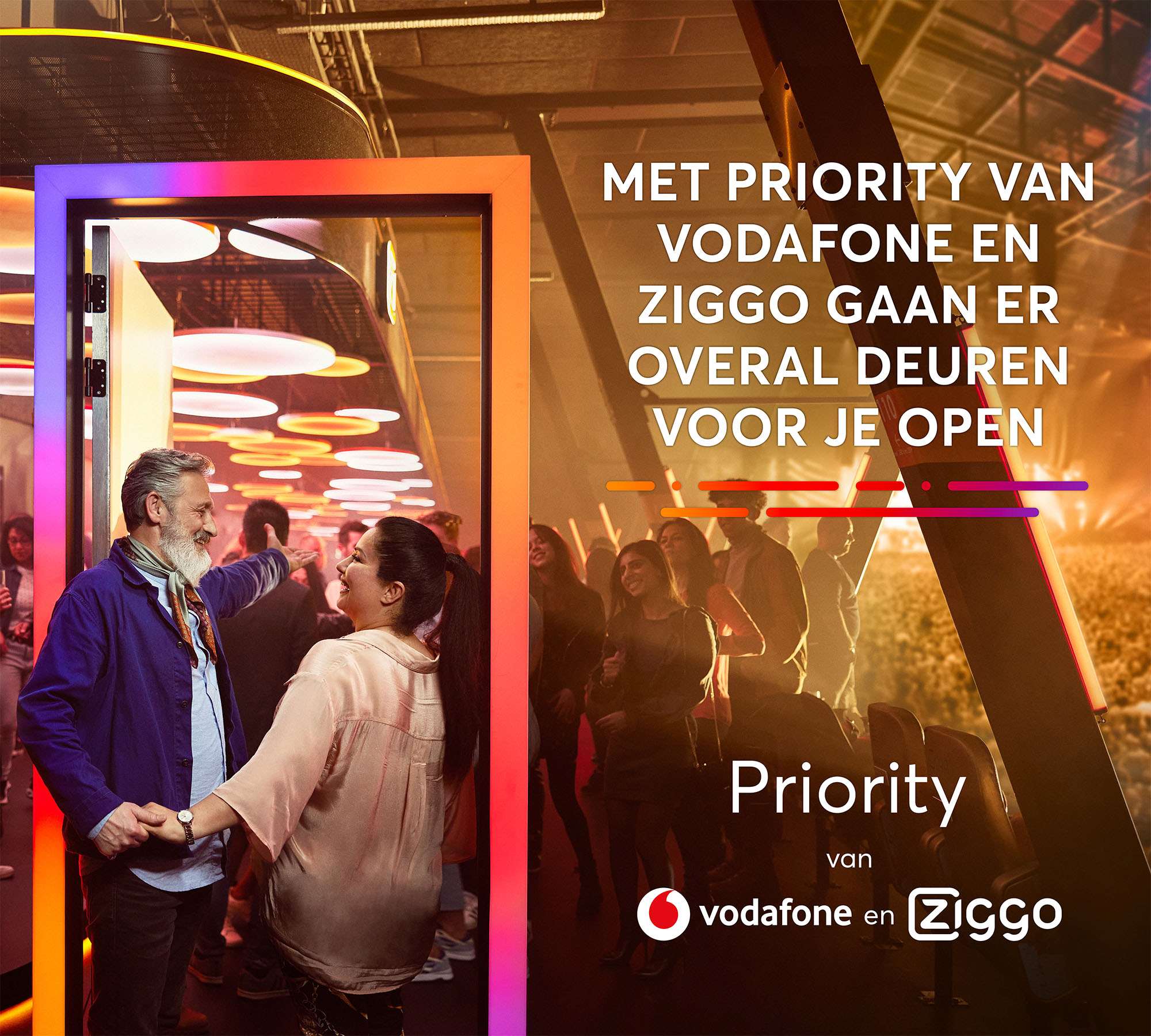 Progress and innovation for our business customers
TECHNOLOGY FOR GOOD BUSINESS
One-and-a-half million entrepreneurs keep our economy running. Whether that is on the road, from home or within their business, it's only possible thanks to smart technologies and strong connections. That is our responsibility and we take that seriously, because if lots of entrepreneurs work innovatively, sustainably and efficiently, they truly make a difference. That is why we offer Smarter Working solutions. And we make security a priority, because it is only that way entrepreneurs can continually perform to the best of their ability. With strong, fast connections and energy-efficient products, we ensure above all that entrepreneurs can work as sustainably as possible.  
THE INTERNET OF THINGS APPLIED
Internet of Things (IoT), devices that are in contact with other devices or systems via internet and in doing so exchange data, are becoming increasingly important to companies. IoT solutions increase the efficiency of business operations, make the development of new products possible and improve the customer experience. Our SIM cards and our 5G network with low latency are essential for this technology. Vodafone has connected more than 142 million IoT devices worldwide and every month Vodafone makes 2 million new IoT connections in order to link devices, sensors and systems wirelessly.  
In 2021, we entered into a partnership with Moving Intelligence. This party helps to protect and trace everything that drives, sails, or is being transported. Entrepreneurs purchase the hardware and software of Moving Intelligence via the Vodafone Business Marketplace and they receive integrated IoT services and SIM cards. In this way, they maintain efficient control over all their moving goods. In 2021, for example, we collaborated with Dual Inventive. Their sensors and systems monitor the quality of thousands of kilometres of rail tracks. We provide the IoT network with which this data is forwarded in real time, which is necessary in order to be able to respond quickly to possible problems.  
THE NEXT STEP WITH IOT.NXT
With IoT.nxt, we are going a step further in order to boost the adoption of IoT in the Netherlands further. IoT.nxt is a subsidiary of Vodafone Group and Vodacom. As part of this collaboration, we are combining the software skills and sector-specific knowledge of IoT with Vodafone's market presence, its network of partners and its international IoT communication network. We are therefore providing complete and innovative IoT solutions, so that our customers can achieve better operating results. Working together in that way enables us to develop large-scale IoT solutions even more effectively. In this way, we can support companies of all sizes and in different sectors, such as the healthcare sector, manufacturing industry, the transport sector and the energy sector, with their digital transformation. We have been working on this with four major customers since 2021. For example, we are improving the indoor climate of the new headquarters of Amplifon, the parent company of Beter Horen. We measure the air quality with multiple sensors. 
5G HUB: CO-CREATION IS THE KEY
The most sustainable manner of working is to join forces and share knowledge. We are doing that in the 5G Hub in Eindhoven, a collaboration on the High Tech Campus Eindhoven with Ericsson, various municipalities, start-ups and entrepreneurs. Together, we test and develop new technologies. 
In 2021, we tested, together with the municipality of Nijmegen, how unmanned mobile cameras can send high-resolution images to a central control point in real time thanks to 5G. On the basis of those images, authorities can divert traffic flows in time before they build up to excessive levels, thereby preventing congestion. In this way, 5G technology makes large events safer for participants and the audience. 
We are also developing solutions for the future of entertainment. The modern-day entertainment sector is primarily focused on an audience that physically attends an event. With 5G, we can change the way in which we watch and deal with live entertainment. Thanks to the higher internet speed of 5G and network slicing, we can develop solutions with our partners in the realms of Augmented Reality and Virtual Reality. Examples include watching matches in real time – with VR glasses – from the viewpoint of different supporters, where you can easily switch seats in the stand and can therefore experience the atmosphere from several angles, all from the comfort of your own living room. 
It takes guts to enter into experimental co-creation, because it doesn't always yield immediate results. With the 5G Hub, we are already doing this, but we could be even more daring at other places within our company, and therefore look beyond the business case at hand and take the long term into consideration more often. For us and society. 
SMART, SECURE AND SUSTAINABLE
Especially during the pandemic, but also thereafter, we have to be able to work anywhere and be able to rely on flawless and secure connections. That is why we fine-tuned Smarter Working with our business customers in 2021, the second year of the pandemic. With Smarter Working Solutions – such as a good data infrastructure and smart telephony – teams can collaborate anywhere, colleagues can always be reached and they have secure access to data. This gives organisations the space to grow, attract talent, reduce costs and increase productivity.  
Sharing securely and gaining access to data is, as far as we're concerned, the most important pre-requisite for a company of the future that operates sustainably. That is why we are doing everything we can to enable customers to work securely, both remotely and at the office. And we are ensuring that every package of data that customers send via our network reaches its destination properly registered. 
EVEN MORE IMPACT IN THE FUTURE
We are working hard to ensure that both entrepreneurs, as well as us, have an insight into the climate impact that we are having with our products and services. For example, we are investigating whether that can be achieved by means of a carbon calculator. In addition, we are working on asking ourselves with each business case how sustainable it is. And how it can be even more sustainable. This is something we want to do more and more often in an ecosystem of partners, such as in the 5G Hub. We also want to involve customers in this more. Currently, we mainly make technology for people, but in the future we want to do this more and more with people.