About VodafoneZiggo
We are VodafoneZiggo. A leading technology company from the Netherlands that provides mobile connectivity and appealing entertainment services for private and business customers. 
On 31 December 2021, we had over 5 million mobile subscribers, around 4 million video subscribers, over 3 million broadband internet subscribers and over 2 million fixed telephony subscribers. 
A STRONG COMPLETE RANGE OF PRODUCTS AND SERVICES
VodafoneZiggo was created in 2017 as a joint venture from a merger between Vodafone Netherlands and Ziggo, with Vodafone Group and Liberty Global as parent companies respectively. Since then, VodafoneZiggo has become a fully 'converged operator': we offer both fixed and mobile services. Bundling our services in this way not only allows us to serve our customers more effectively, but also to grow faster, thanks to a 'quad-play' range and a wealth of opportunities to sell additional services to existing customers. What is more, we are able to benefit from the knowledge and expertise of both our parent companies. 
Supported by our GigaNet – the powerful Vodafone and Ziggo networks – we now operate as one company that offers a combination of two premium brands. In addition, we serve the mobile 'no-frills' segment with hollandsnieuwe: affordable subscriptions with basic services. 
Vodafone. One of the most innovative brands in the market for mobile telecommunications services. Vodafone has the largest 4G network, was the first to launch 5G in the Netherlands and is the global leader in the Internet of Things (IoT).
Ziggo. An iconic and robust brand that has become an integral part of society. Ziggo offers a broad range of fixed services and products such as Gigabit internet, Smart Wi-Fi pods and digital television. We also offer attractive entertainment content – via Ziggo Sport among others – via next-generation video platforms, including our award-winning Ziggo GO app.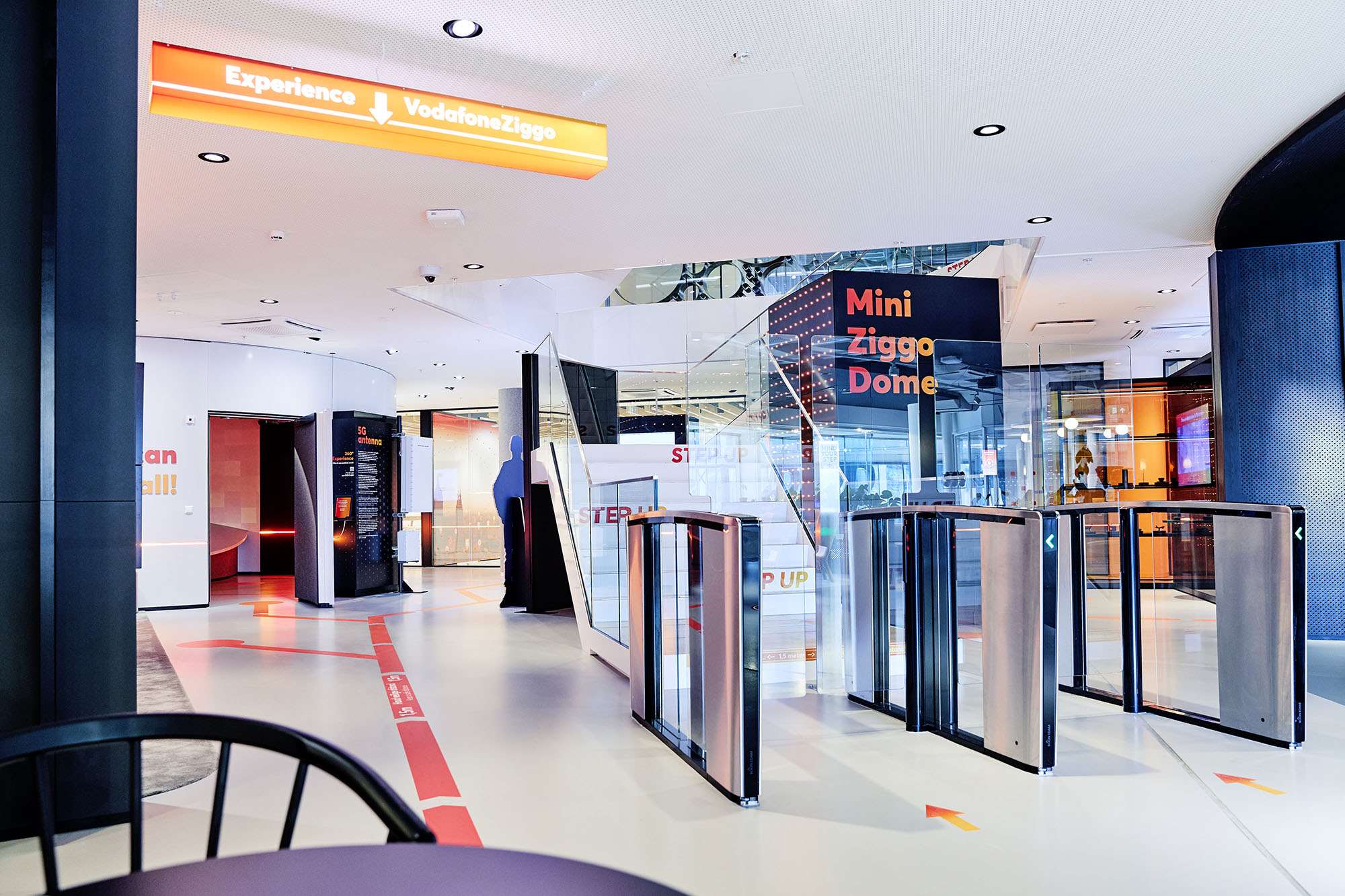 The Experience Centre, a place where the company's vision comes to life in various ways, is located at the central office of VodafoneZiggo in the heart of Utrecht. Here, you can come face to face with a hologram figure that tells you about our GigaNet. During a show, you can experience the impact of our current and future technological landscape and you can learn about the positive impact that Internet of Things is having on society. By watching a 360-degree video, you can experience what it is like to climb a mobile phone mast. You can learn what place a fibre node occupies within the fibre cable network. You can dance to the sounds of a concert in a mini-version of the Ziggo Dome. And you can take a selfie with Ajax players. 
The Experience Centre has existed since the creation of VodafoneZiggo (2017), but was given a makeover in 2021. It now offers a new, interactive walking route, in which we bring our business goals to life for our customers, colleagues and other stakeholders.
In addition, various departments use the Experience Centre to hold interactive sessions with their (external) clients. The B2B department (business market) invites customers here for tours and meetings, in which the main focus is on future opportunities for companies – where are we now and what is our direction of growth? The customers can choose between two inspiration sessions:  
Smarter Business: Responding to the opportunities offered by the Internet of Things and Big Data. 

Digital Workplace: Responding to the emergence of flexible/more flexible working. 
The B2B and Public Affairs departments regularly welcome guests together from local government (municipalities and provinces). During these sessions, the participants examine how they can support each other with difficult issues. 
The Corporate Social Responsibility departments frequently invites school pupils. These children (usually from group 7 and 8 of primary school) learn how to be skilled, safe and aware in digital world.
The HR department organises an introductory meeting for new colleagues several times a year here, where they learn more about the business goals and the values of VodafoneZiggo. The same applies to the Retail department, which welcomes the new shop employees here.