Technological solutions for society
With our technology, we are helping society move forward. For example, we want to improve people's lives and solve social challenges with our network, products and services. We are developing solutions that shape the healthcare sector, sustainable business operations and the inclusive society of tomorrow.
New technologies and applications contribute towards solving social problems and issues; we are convinced of that. From smart cities to increased security, improved healthcare and the industry of the future. In order to stay at the forefront of those innovations – and to make them available to our customers – we are working, in the 5G Hub in Eindhoven among other places, on the innovations of tomorrow. Together with partners, we are testing and developing new 5G technologies.
In 2021, for example, we tested the Odd.bot, a self-learning 5G weeding robot that recognises weeds and removes them from fields. Thanks to a fast 5G connection, the robot works much quicker and weed removal is becoming more efficient, cheaper and better for the environment, because it makes pesticides redundant. 
A DIFFERENCE IN THE WORLD
'Connecting for good', that is the mission of the Vodafone Foundation. We have been reinforcing this idea since 2002 in the form of the Vodafone Netherlands Foundation. The aim of our foundation is to enable 1.6 million Dutch citizens to progress in society by 2025. That is why we also stimulated innovations in the past year that improved people's lives, This included innovations in the healthcare sector, for digital inclusion and in the field of development aid. 
We are in the middle of the digital revolution. As partner in digitisation, we help our customers to innovate. For example, we provide complete and innovative Internet of Things solutions that ensure efficient business operations and an improved customer experience. In the 5G Hub in Eindhoven, we are working with our partners to develop solutions that will shape the healthcare sector, business community and society of tomorrow. Thanks to 5G, a doctor can provide care remotely and precision agriculture is possible.

John van Vianen
Executive Director Business-to-Business
Our ambitions and objectives

Enable 1.6 million people in the Netherlands to progress further in society by 2025
CALCULATING WHILE DREAMING WITH DREAMLAB
We also continued with the free app Dreamlab in 2021. Users make the processing power of their device available for medical research at night, while their telephone is charging. Last year, 2 million people spread across 17 countries participated in this, And in this way accelerated the research into possible treatments for COVID-19, for example, while sleeping. "For many people, medical research is abstract and far away", states Laura van Gestel from the Vodafone Netherlands Foundation. "Even though we all know someone among our circle of acquaintances for whom research could be life-saving. With Dreamlab, we are making it possible for anyone to contribute to pioneering research." 
Research into cancer will be given an extra boost with Dreamlab in 2022, as we have been working with the Antoni van Leeuwenhoek hospital/Netherlands Cancer Institute since 2021. This year, research from this research institute will be made available in the app. Users will then be able to use their combined processing power for research that will look at how irradiation can be targeted as precisely as possible on a tumour without damaging surrounding tissue.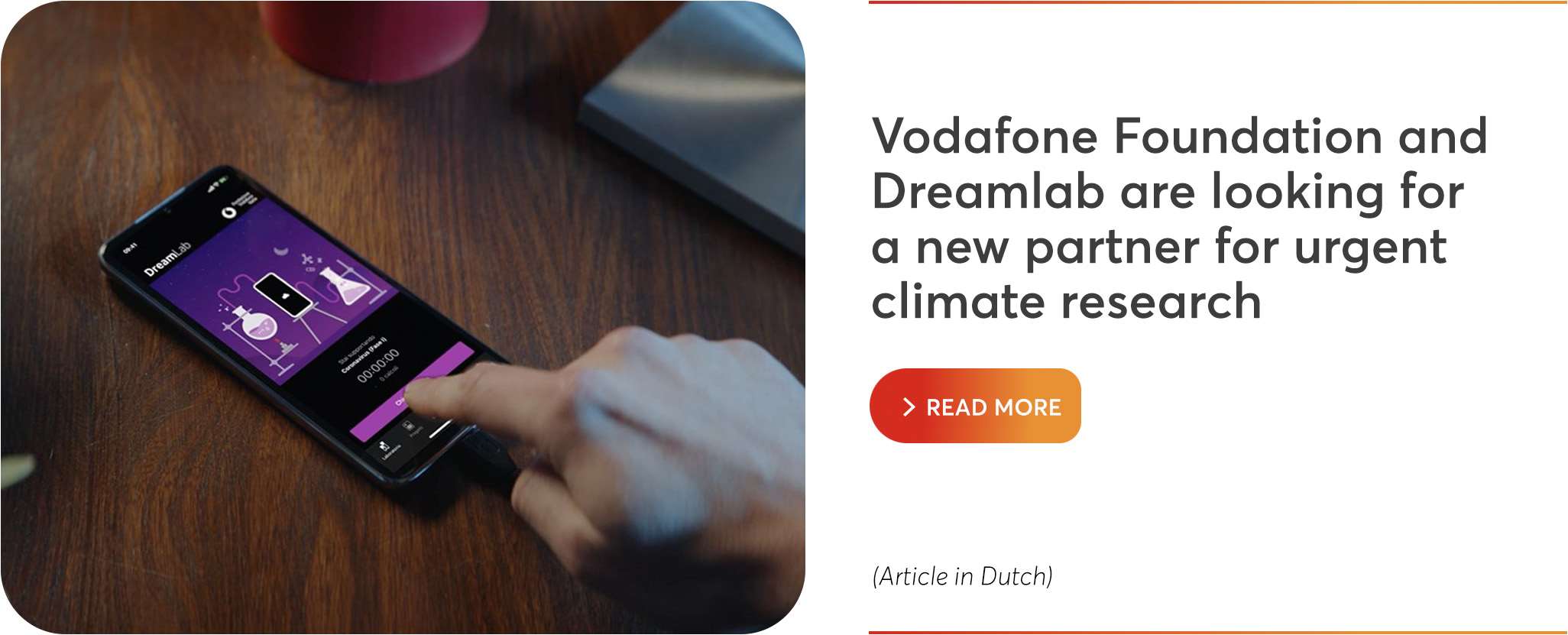 BONDGENOTEN (ALLIES) ON THEIR OWN TWO FEET
Connected people move forward. That is why we have also used our network and products for the project Bondgenoten (Allies) in the past year. Within that project, children with a long-term illness are given an AV1 robot free of charge. This helps them to follow lessons at school, to talk with friends, to see family and to take part in sports and games virtually. In 2021, the project was so well-established that it is now able to stand on its own two feet moving forward. It is now completely in the hands of the Child and Hospital Foundation (Stichting Kind en Ziekenhuis)  
INSTANT NETWORK COMMUNICATION AFTER A DISASTER
Connecting people, precisely when they need it most; that's what we do with Instant Network. Within this programme of Vodafone Foundation, colleagues work as volunteers in order to build temporary communication networks in disaster zones.
For example, we were on Sint Maarten after Hurricane Irma in 2017 and in Mozambique in 2019 after Hurricane Idai. We also provided help in the Kakuma refugee camp in Kenya as part of the Instant Classroom Missions. With the instant classroom, we set up a classroom in places without electricity in 20 minutes, including a 3G hotspot, beamer, screen and 25 tablet computers. 
In 2017, we built instant Wi-Fi for the first time in the Iavrio refugee camp in Greece. In 2021, we were at the emergency location Mavrovouni on Lesbos, better known as Moria, where thousands of refugees are accommodated. Volunteers from Greece, Spain, Hungary and the Netherlands set up free Wi-Fi there using 300 kilos of equipment. This is how we make a difference with mobile communication, in the Netherlands and in very remote places. 
The past years turned out to be good practice for 2022. Colleagues from the Netherlands and other countries signed up in response to the call to be on stand-by for Wi-Fi and charge in the border areas around Ukraine. The Dutch team has never deployed so much equipment at the same time for this.