An employer that makes you feel at home
The coronavirus overshadowed everything else in 2021. It was a major challenge – and responsibility – to keep our people healthy, safe and connected. Fortunately, we had already been taking steps towards hybrid working even before the pandemic began. This year, we were able to build on that. From lessons about leadership to solutions based on solidarity – we did everything we could to create that ultimate feeling: a sense of belonging. As a trailblazer, we were frequently invited to provide inspiration on the subject of hybrid working. We were also named vitaalste werkgever van Nederland (healthiest company to work for in the Netherlands). 
A pandemic forces us to tackle and adapt, but also to look ahead. How will we move forward once the world has calmed down again? One thing is clear, hybrid working is here to stay. That is a good thing, if only due to the CO2 emissions that it will reduce. However, it is also a challenge, because how will you lay out your office then? And how will workers remain motivated, in contact and in balance? The solutions are already taking shape. This year, we also introduced an entirely new system, which will ensure that our people have the opportunity to develop in an unprecedented way. Both within and outside VodafoneZiggo. 
PROPELLING YOURSELF INTO THE FUTURE IN A THREE-STAGE ROCKET
Mapping out your career progression, monitoring demands and developing yourself without limits – professionally and personally. VodafoneZiggo believes it is extremely important that all employees continue to grow, both consciously and actively. That is why we are offering them unprecedented opportunities to progress. To find out more, simply take a look at these three new programmes: 
Career4U is our new career framework. A platform that sets out the possible career pathways in clear and comprehensible way and shows you what is needed in order to achieve growth in your position or to switch to a different position. This also forms the input for GROW. This evaluation system doesn't focus on performance, but on development. Where are you at right now and what do you need to learn in order to progress and achieve your goals? Taking steps to ensure your development has now become extremely easy thanks to our learning platform Progress for You. This platform, which we sometimes also refer to as the 'Netflixification of learning', offers endless learning opportunities for everyone who works at VodafoneZiggo. Over 8,000 training courses, workshops and e-learning programmes, which employees are free to use, so that they can maintain relevant to the organisation and the labour market.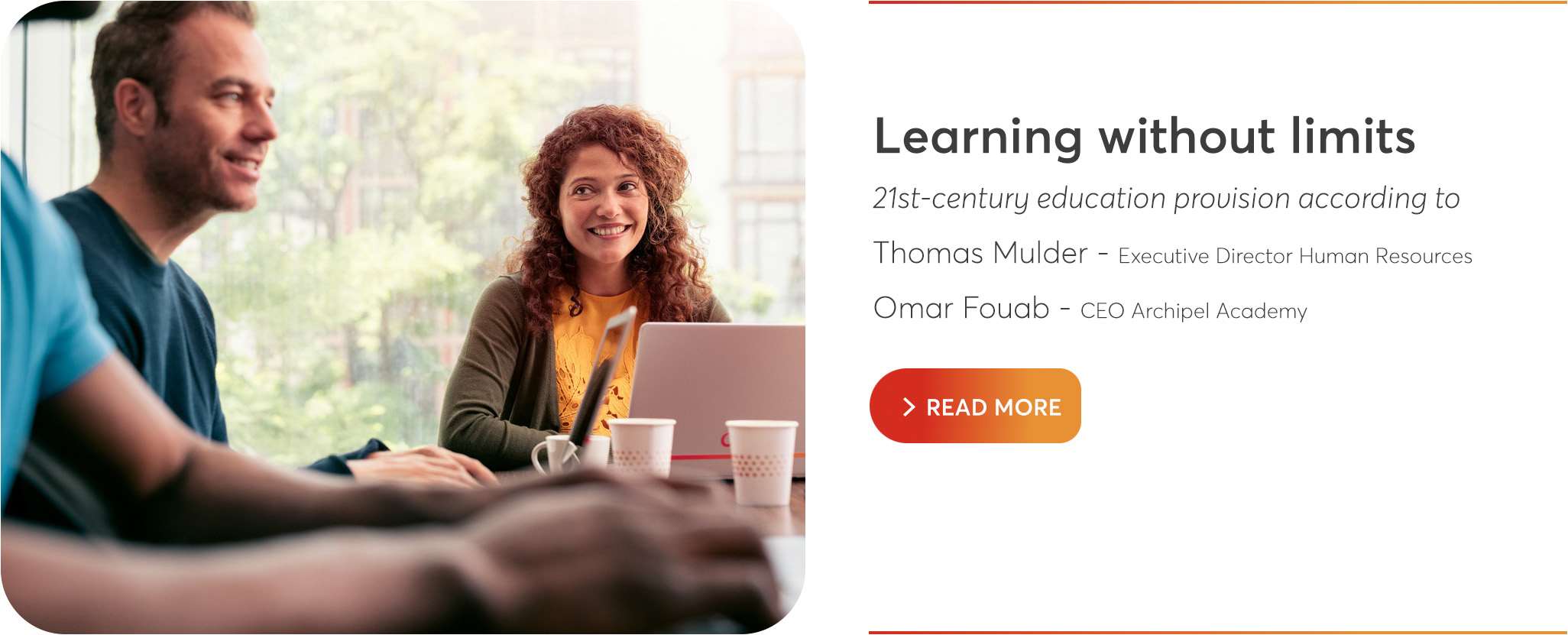 CONNECTED WORKING AND WORKING FROM HOME
In the new system of hybrid working, we believe that the team is just as important as the individual. We work whenever, wherever and in whatever manner is most effective for the team. Teams come to the office to develop social contacts or to work on complex topics or topics that require a large amount of creativity or that relate to personal development. We avoid holding meetings in the office; that's going fine virtually. The office is therefore becoming more of a meeting place. 
A HeartBeat survey amongst our staff revealed that thirty percent of homeworkers had the feeling that they 'needed to be online at all times'. This demonstrates that monitoring boundaries is not a simple matter and that working from home requires a different type of management. Attention is essential, but that's not about breathing down someone's neck. The results are what counts, so we are teaching our managers to manage their staff with that in mind. We're also teaching our employees to be more autonomous in managing their time. To take time out between meetings, to find a healthy work-life balance and especially to shut down their laptop on time. 
Putting on TV shows to keep the workforce on the edge of their office chairs? VodafoneZiggo does that. From the Ziggo studio, each business unit recorded a Business Meeting each quarter, entitled 'Stay Connected'. Thousands of colleagues also enjoyed a lottery a performance by Guido Weijers and our big Christmas show. The pleasure that goes into the making is just as great as the success, so we are already busy thinking up new ideas. What all those ideas have in common is the intention to keep the energy flowing and enable our people to feel a sense of belonging. 
A DEMOCRATIC COLLECTIVE LABOUR AGREEMENT
Our view is that everyone has a voice that must be heard. And that is also true when determining policies within VodafoneZiggo. However, the number of people who are members of a trade union has fallen dramatically, and is now around fourteen per cent nationwide. As a result of this, only a small group of employees is represented when a trade union takes part in negotiations about the collective labour agreement. With a hands-off government, we believe that the expertise of a trade union is actually important. De Unie has therefore come up with an elegant, new solution – the support collective labour agreement (draagvlak-cao). In this way, the union involves ALL employees – whether they are members or not. We are one of the first organisations that have dared to adopt this approach alongside the conventional trade unions, and with a participation rate of 41 per cent, the results already speak for themselves. 
During the COVID-19 lockdown, we all learned what the advantages and disadvantages of virtual working are. Those insights form the basis of our hybrid working policy, with its positive impact on our people, organisation, society and environment.

Thomas Mulder
Executive Director Human Resources
Looking ahead, organisational development is on the agenda, with priority given to the digital and agile transformation of our company.. We have also identified that as far as engagement is concerned, further success can still be achieved in our frontline – from technicians and the staff in our shops to managers. If their engagement with customers increases, this will give rise to an even better customer experience. Both at home and in our shops. We want to devote extra attention to that next year. For example, by introducing a new leadership programme for people leaders on the frontline. And through a new approach in our internal communications, which will enable us to reach specific groups of employees more effectively.