Our customers always come first
The best customer experience, that's what we're aiming for, with excellent products and services, but especially with superior service And that can always be improved. By continuing to listen carefully, analysing data intelligently and being proactive, we keep our customers satisfied. That is also good for us, because satisfied customers remain loyal and in this way help us achieve sustainable growth.
| | | | |
| --- | --- | --- | --- |
| | Result 2021 | Result 2020 | Result 2019 |
| Number of SIMs prepaid  | 380,300 | 432,700 |  581,200 |
| Number of SIMs postpaid  | 4,985,100 | 4,757,100 |  4,483,700 |
| Fixed customers  | 3,738,800 | 3,863,000 |  3,875,100 |
| Mobile customers  | 5,365,400 | 5,189,800 |  5,064,900 |
Customers expect more and more from us. That's understandable, because the world around them is changing rapidly. For example, we're working from home a lot during the pandemic, which makes reliable accessibility more important than ever. Our customers are also used to more and more speed and service from online retailers and delivery services – and they also expect this high level of service, with good reason, from us. We learn how to respond to expectations in the best possible way from customer panels, market research, social media, customer data and from feedback that we receive via our customer service. In 2021, we worked hard once again on innovations for the customer experience using this input. 
THE CUSTOMER TAKES PRECEDENCE
In the past year, we focused even more on our customers by providing extra service. For example, we offered customers in flooded areas in the province of Limburg extra data and deployed technicians who restored their internet and TV as quickly as possible. We are also committed to a better Wi-Fi experience. We are therefore proud of the introduction of Smart Wi-Fi as it will provide more effective support for homeworking. In the past year, 1.2 million customers strengthened their Wi-Fi signal using Smart Wi-Fi products, in order to receive the fastest and smoothest connection throughout the entire house. 
In 2021, we also looked with customers at what could be improved within each VodafoneZiggo department. In the case of new products and services, we always ask via customer panels first what customers need, and it's only then that we continue with the (further) development. This led to the Priority app, for example, with which customers are given priority when buying tickets for concerts, festival, football matches and other events. A perfect way to give some attention to our loyal customers. We also improved the My Ziggo app on the basis of input from customers. And in the past year, we have used our Experience Centre again for business customers. Together with them, we discovered which technological, commercial opportunities there are for their company or (official) organisation.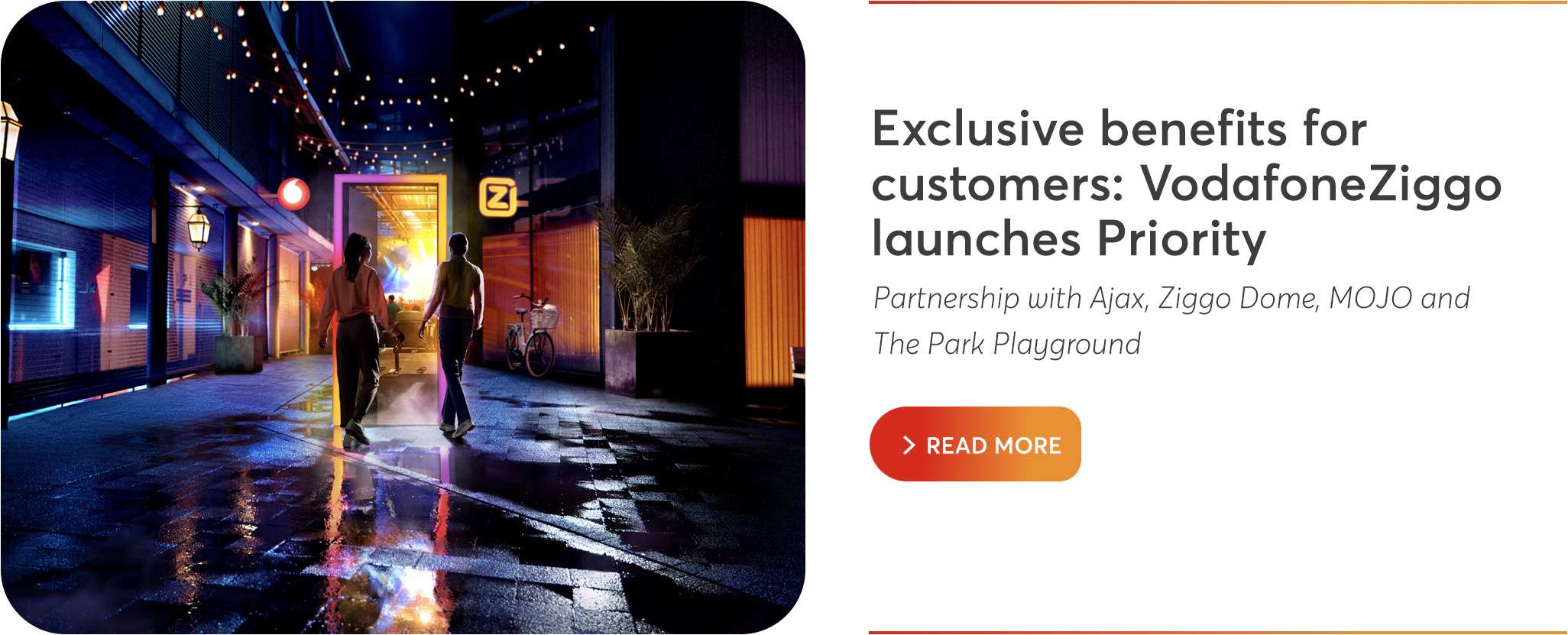 A CAREFREE CUSTOMER JOURNEY
A good product or a smart service should go hand in hand with a good experience. We want to be there for customers, from the familiarisation with and the purchase of a product or service to its use and any contact with the customer service. In other words, throughout the entire customer journey. That is why we make use of customer panels to investigate how that customer journey can be smoother. Departments are also collaborating ever closer internally to ensure that each part of that journey is the best it can be. 
In 2021, for example, we improved the contact with our customers by giving them more and more help online too. We helped even more customers via online chat, Twitter, Facebook and with the help of TOBI, our chatbot. This is making our customer service increasingly accessible and flexible. Another improvement is the Wi-Fi Crew, a team of our best Wi-Fi experts from technology and customer contact. When a customer passes on a complaint about Wi-Fi via the telephone or chat, the first thing we do is provide help remotely and as quickly as possible. If that is unsuccessful, we have specialists ready to solve the fault at the customer's location in double-quick time. Last year, customers who were helped by the Wi-Fi crew gave us a Net Promotor Score that was 20 points higher on average than those from other customers.  
Meeting the wishes of our customers as effectively as possible, by listening to what they truly need from us. That goal also resulted in even better services this year.

Barbara de Koning Gans
Executive Director Customer Operations
The Net Promotor Service (NPS) tells us whether customers are genuinely satisfied. We use this to assess how customers experience us as a brand. Would they recommend us, for example, to friends? On the basis of this score, we adapt our products and services. As we want to understand the overall experiences of customers, we have also been specifically measuring the Journey NPS (JNPS) since 2020. That way, we are gaining an increasingly better understanding of how customers experience us at all kinds of times, and also about how we can improve that further. 
| | | |
| --- | --- | --- |
| | Result 2021 | Result 2020  |
| Net promoter score (NPS) Vodafone (consumer)  | 12 | 20  |
| Net promoter score (NPS) Ziggo (consumer)  | 1 | -3  |
| Net promoter score (NPS) combined services Vodafone (consumer)  | 15 | 27  |
| Net promoter score (NPS) combined services Ziggo (consumer)  | 12 | 7  |
| Net promoter score (NPS) Vodafone (business market)  | 3 | -4  |
| Net promoter score (NPS) Ziggo (business market)  | -11 | -13  |
| Net promoter score (NPS) combined services Vodafone (business market)  | 9 | 6  |
| Net promoter score (NPS) combined services Ziggo (business market)  | -1 | -4  |
How do we ensure that our customers will have an even better experience with us in the future? By continuing to listen to them and by converting their feedback into a so-called plug-and-play experience when buying a product. Or rather: putting a new product into use at the touch of a button, without having to change extra settings yourself, and also without the intervention of a technician or any help from customer service.  
We also want to move towards an even smoother customer experience should a problem arise. Therefore, telling your story once and receiving proper help straight away. Apart from that, we are ultimately aiming for the ultimate next step: approaching customers proactively before something goes wrong. This is something we already do with our network. We repair the network even before problems occur, so that the customer is and remains easily contactable. In all of these ways, we are making the customer experience more and more personal.