The world around us
Technology is developing at a rapid pace, sustainability is more important than ever before and the coronavirus is still causing considerable upheaval around the world. In order to remain relevant, it's important to know what is going on and be able to shift gears quickly. In this section, we will discuss the trends and developments we are monitoring closely.
Anyone who thought that the pandemic was over after 2020, was deceiving themselves. Last year, the Netherlands was confronted with lockdowns once again, as a result of which the growth of our 'online lives' continued. Helped by the gradual increase in the digital tools available, homeworking – or rather: 'working from anywhere' – became even easier. Research has shown that this flexible way of working is set to continue, even once the coronavirus is no longer keeping us at home. This also will be accompanied by an increase in the importance of cybersecurity. The integrity and security of our systems and network are therefore our highest priority. That is what our customers and society as a whole are expecting from us.
A SMART HOME FOR EVERYONE
Another trend that was given a boost by the pandemic is relaxing at home via digital resources. From smart speakers to connected thermostats and washing machines – millions of Internet of Things devices were connected in our customers' homes last year. For work purposes, but also in order to relax, to provide more comfort and to make things more sustainable. As a result of which, many people are truly living in a smart home already. Consumers are also increasingly making use of streaming services such as Netflix and AppleTV, either via their television screens, but also just as easily via all manner of other equipment, such as laptops and smartphones.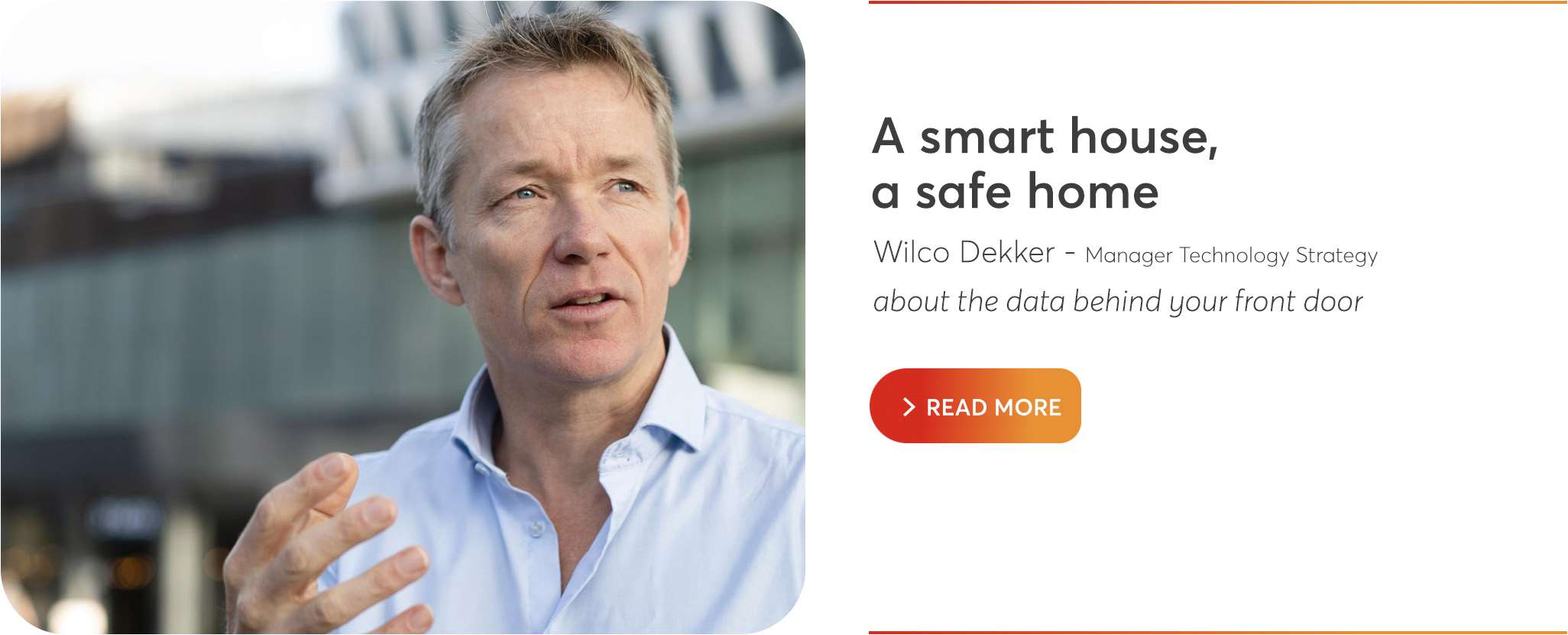 In an increasingly digital era, customers' expectations are changing. Waiting a long time for an answer was never popular, but now every second truly counts. The same thing also applies when making changes to a subscription or when purchasing an additional service. That is why at VodafoneZiggo, adopting a customer-focused approach is our number one priority. Last year, we invested heavily in the My Ziggo app and the My Vodafone app. As a result of this, ordering a service quickly or to changing a setting is easier than ever. 
Our competition increased in 2021. Several parties accelerated the roll-out of fibre optic, in order to compete with our GigaNet. In addition, private equity parties entered the market by buying into our competitors. This is a new development that we are monitoring closely. New competitors are also appearing in terms of content.
WORKING TO IMPROVE OUR CLIMATE
We have seen all kinds of trends and developments come and go. Climate change, however, is something that requires our constant attention. Not simply by talking about it, but above all by working on solutions. Last year, we once again took some major steps forward in the direction of our sustainability goals for 2025. We are making an impact with our environmental performance in three key areas: our own operation, our customers and our employees. You can read here what we are doing in those areas to turn our firm ambitions into reality. 
During the floods in the province of Limburg in 2021, we literally swung into action. Despite the extreme conditions, our network held up well, but at various locations, the residents of Limburg were still having problems. By deploying a mobile service point – in other words, a large bus full of experts and equipment – we drove through the province to help people out. All Ziggo equipment that suffered water damage was replaced free of charge.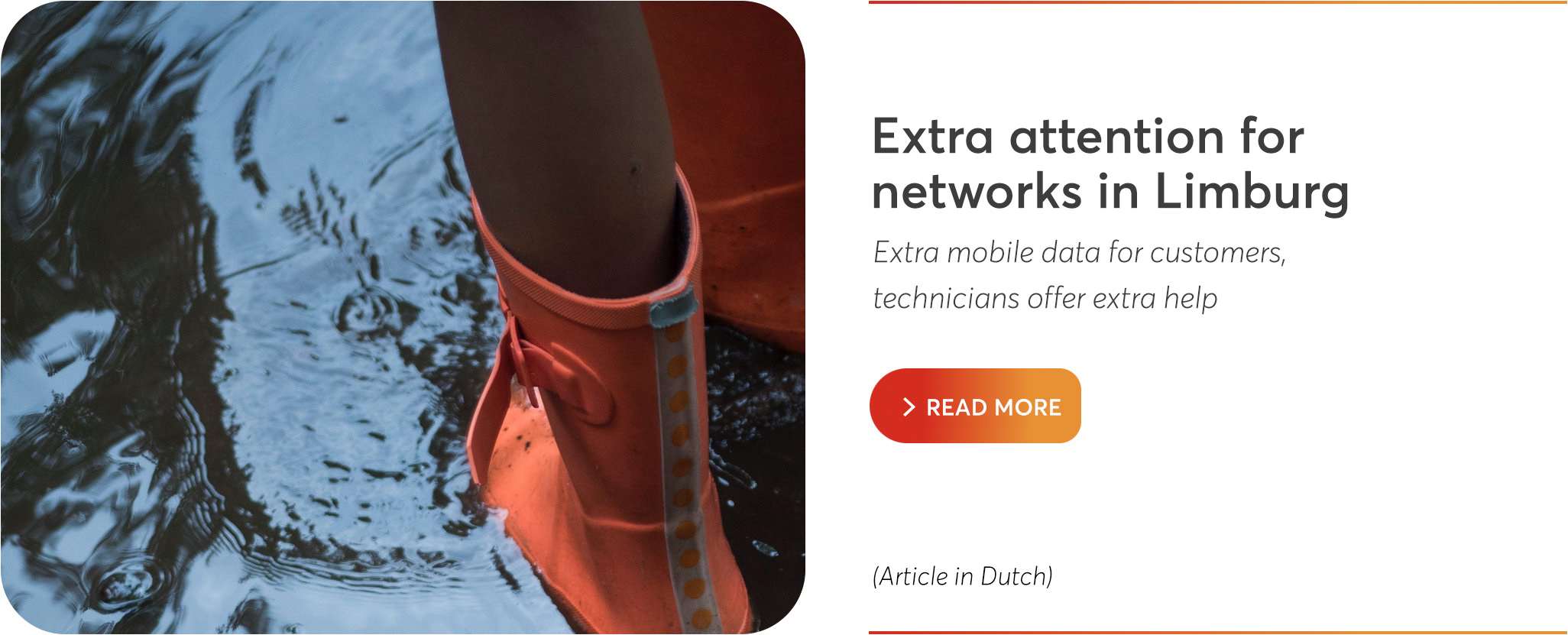 LABOUR MARKET UNDER PRESSURE
A considerable challenge: the shortage of workers on the labour market. This is especially the case in our sector, which relies, among other things, on people from IT, business and technology. At the moment, professionals in those fields in particular can take their pick of jobs. Fortunately, we at VodafoneZiggo have a lot to offer. Having launched a new career site, we are proudly demonstrating to the world that we are a solid and reliable employer. Diversity, equal opportunities and inclusion once again played a significant role: this is a theme in which we are leading the way and will continue to do so. 
Not everyone has a 'handy cousin' who can help install an app, such as the CoronaCheck app. The majority of people found it quite difficult to get the app up and running. Fortunately, many of them found their way to our shops, where we happily gave them the help they needed. Digital inclusion is something that has been on our radar for a long time now and has since become one of the main objectives of our People Planet Progress programme. After all, while we are helping the Netherlands to become more digital, we also have a responsibility to ensure that nobody is left behind. By 2025, we therefore intend to help two million people get ahead in the digital domain. 
It goes without saying that we are constantly keeping track of all relevant trends and developments in the technology sector. And wherever we can, we also make sure we form part of them. Take the Internet of Things (IoT) for example – the technology that lies behind has become truly mature, or rather: mainstream. Using your smartphone to turn down the central heating at home is something we already find completely normal. That is an area where you can see the energy transition and the opportunities provided by our telecom sector coming together. 
Another innovation that we are heavily involved in is the next generation of mobile internet. To be precise: 5G. This is a technology that offers a whole host of exciting possibilities. From smart cities to increased security, better healthcare and the industry of the future. In order to stay at the forefront of those innovations – and to make them available to our customers – we are collaborating with our partners to create the innovations of tomorrow. 
Of course, we are living in an unpredictable world. But there's one prediction that we dare to make. We will continue to be at the cutting edge when it comes to the subjects above. From IoT to 5G. From sustainability to digital inclusion. From good employment practices to 'everything for the customer'. From working wherever you like to ultrafast internet – throughout the Netherlands.