Together with our customers, we are becoming circular
VodafoneZiggo wants to play its part in the transition towards a circular economy. A world in which we use products as long as possible and raw materials are continually reused. When is that circle actually complete? That will take a little bit longer. That's no reason to wait, in our opinion, but is certainly a reason to press ahead – together with our customers. 
SEARCHING, TRIALLING AND LEARNING
Transmitter masts, cables, media boxes and telephones. But also buildings and means of transport. To provide our customers with the products and services they need, a wide variety of resources are needed and we firmly believe that all of those items and materials need to be used with care. That is why we are continually on the look-out for opportunities to reuse more often, to extend the service-life of our products and to produce less waste. 
Our customers are telling us how important sustainability is to them. At the same time, we can see that the idea of a circular economy is something that takes some getting used to for everyone. For example, by exchanging your old phone at one of our stores whenever you purchase a new one. After all, it's really great that your old device will have a second life. Most people would prefer to leave it in a drawer at home. Thinking and acting sustainably is not ingrained yet therefore; it is a learning process for us all. We hope to inspire our customers and employees in this regard. 
Refurbishing – in other words, making returned products suitable for reuse. We do this with all of our products, including modems, Wi-Fi boosters and media boxes. Before a product is recycled from top to bottom, it will have been used by four customers on average. Any savings achieved with that product is therefore a four-fold benefit. And we are certainly making savings. We are collaborating with Liberty Global in order to reduce the quantity of plastics and packaging used in our logistics as a whole. As a result of this, the quantity of plastic being used is decreasing rapidly. One of the measures we have taken is to reduce to a minimum the number of plastic cushions needed to prevent damage, and we packed our shipping boxes no less than 90% more efficiently in 2021. 
Another saving: we now send much less cables to new customers as standard; around 4,000 metres of coaxial cable less on an annual basis. We also brought down the total number of shipments in 2021. While we are happy for reusable media boxes to be returned, customers are asked to take unusable products to the waste site themselves. As far as our mobile telephony activities are concerned, we are doing what we can to make our packaging more sustainable. In the case of accessories in particular, we are focusing on recycled material, smaller packages, less ink and fewer coatings, and the elimination of plastics.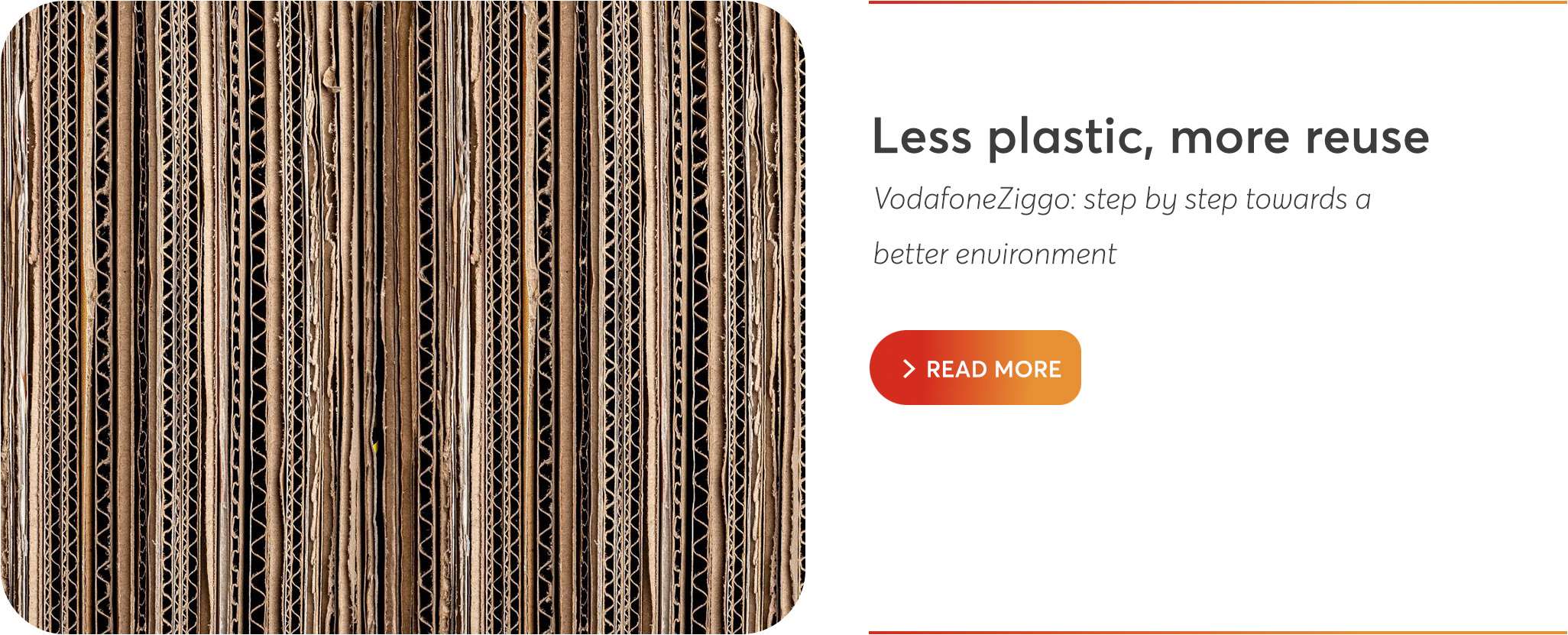 In order to close our product life cycles, we need our customers' help. More specifically, we are doing everything we can in order to get hold of their old and defective equipment that we issued to them on loan. For example, Ziggo customers can send back their old media box, router, modem or Wi-Fi booster free of charge. Last year, around 80% of these were returned.We also like to ensure that old phones receive a second life by means of our exchange deals. The results are still modest, but our ambition is large-scale and necessary: to drive down CO2 emissions and the use of scarce raw materials in the mobile telephony sector. 
A special partner that is helping us to achieve significant advances in that regard is Closing the Loop. As an organisation, Closing the Loop converts e-waste into value, by compensating for the environmental impact of new phones and by reusing raw materials. We are extremely pleased with this collaboration. Our own employees are also committed to sustainability and are coming up with more and more solutions themselves. For example, one of our technicians put forward a point for improvement: the installation products with which they work were mainly supplied in plastic packaging. "Isn't there a different way?" We set to work on that immediately. 
CONTINUING TO REDUCE, CONTINUING TO IMPROVE
VodafoneZiggo has set itself the objective to continue reducing the use of plastic and packaging, and we believe that a lot of progress can still be made as far as transport is concerned. Admittedly, we are now using more hardware than we did in the past. This includes the Smart Wi-Fi pods that make sure you have perfect coverage throughout your home, which is something that is in great demand amongst our customers as a result of the increase in homeworking.  
OUR NETWORK AND OUR OWN SHOPS

Though the internet and telephone services appear to be somewhat intangible as services go, a lot of hardware is still needed to keep them 'on the air', from masts and transmitters to entire data centres. And in this regard, we have left the throwaway culture behind us for many years already. Through Vodafone Marketplace, all equipment from our network in the Netherlands is sent to other countries where Vodafone is active. And if we can't get rid of our old servers there, we pass them on to another telecommunications company. For example, our 3G network in the Netherlands was switched off last year, which meant that we were able to relocate a large amount of old equipment to other countries. 

Even within our own company, we do everything we can to close the circles, including recycling waste and making use of a circular chef. We are also getting ready to make an important transition: Connected Working 2.0. This is new way of working in which homeworking plays a key role, mobility is reduced thanks to digital resources and in which offices are assigned a completely new role. The focus of that new role is upon collaboration and to put it into practice we are making use of as many circular materials as possible.