The impact of purchasing
For us, expenditure running into billions form the key in order to bring about positive change. How? By attaching requirements to every cent we spend. Requirements for privacy, security and health, an improved environment and decent working conditions. This creates a situation in which hundreds of our suppliers, and the thousands of suppliers that supply them, are each contributing a little bit more in order to achieve a better world. 
BENCHMARKING OUR SUPPLIERS
Our influence is considerable, as we make purchases to the value of 1.8 billion euros each year with hundreds of partners. From parties constructing and maintaining our GigaNet and international suppliers manufacturing equipment such as telephones, modems and media boxes to distribution partners who deliver products to customers and the companies that supply us with energy. If you are a client as large as we are, you can specify requirements. And that is what our purchasing team therefore does, by benchmarking our partners against ethical and sustainability criteria, both during and after the procurement process. That way, we are encouraging them to do business in a sensible way that will help create a better world. 
OUR AMBITIONS AND OBJECTIVES

The majority of the top 500 companies have been audited by EcoVadis.

International collaboration within the Joint Audit Corporation (JAC)

To implement a 10% CSR weighting factor in new tenders

2021 Results

195 of our top suppliers are registered with EcoVadis

850 million euros of expenditure by VZ has been charted and EcoVadis assessment completed

The company is now purchasing green energy only
Everything we purchase must meet our sustainable and ethical standards. We have laid down our requirements in that regard in our Sustainable and ethical procurement code. We have also reached agreements with our call centres in Suriname and Turkey about working conditions and ethical wage levels and with the partners constructing our GigaNet about security. We have also obtained a commitment from our energy providers that the energy we receive is always certified green energy. 
We also regard it as important to verify for ourselves whether our suppliers are fulfilling our requirements. In order to achieve that, workplace inspections are carried out in the case of work characterised by a high risk profile. On an international level, our parent companies Vodafone Group and Liberty Global are actively involved in the Joint Audit Corporation (JAC). The JAC conducts international audits out as a means of improving the social and environmental performance of influential suppliers. That way, we are able to achieve a sector-wide, sustainable impact the world over.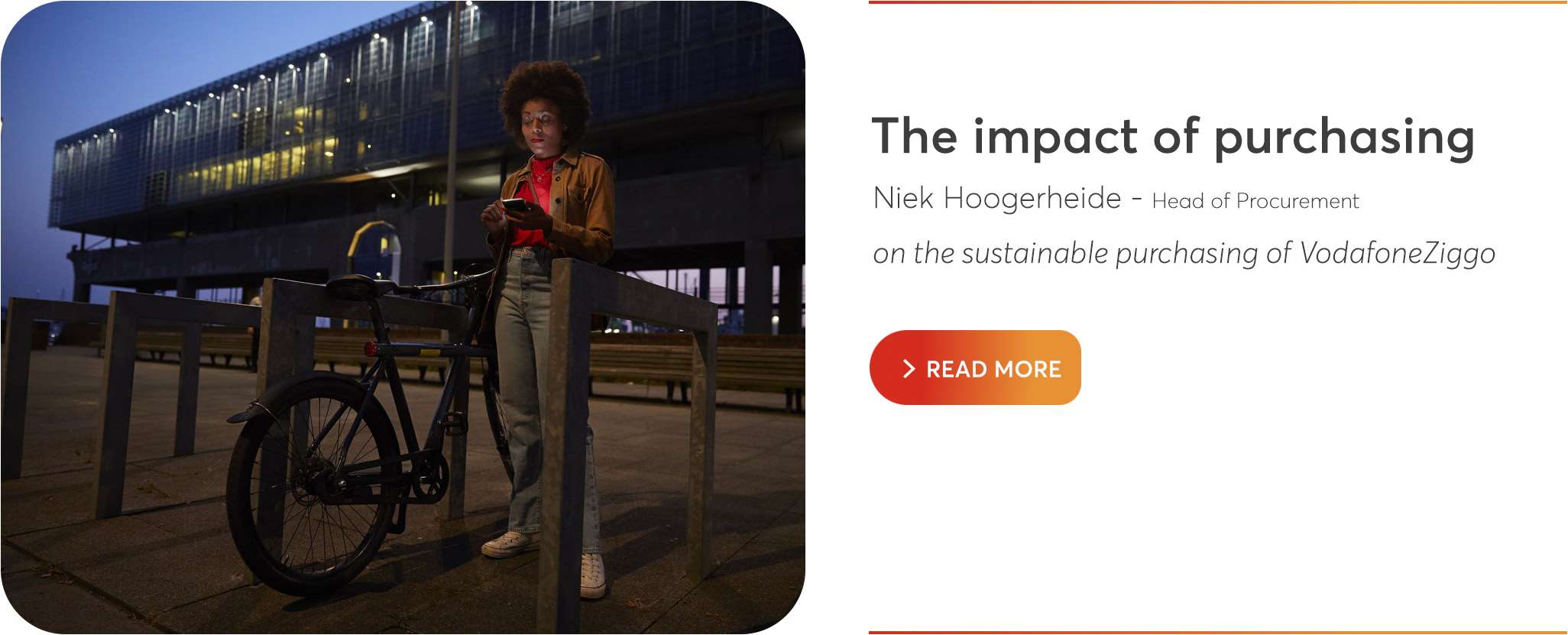 Closer to home, we have been receiving assistance since 2020 from the independent consultancy EcoVadis, in order to obtain a more effective insight into our suppliers' sustainability performance. EcoVadis audits our partners and provides us with an insight as to how they score with regard to 21 corporate headings within four theme areas: environmental risks, social risks, ethical risks and supplier risks. This provides a more transparent view with regard to how ethically and sustainably a particular partner is operating. Although carrying out a very in-depth analysis of the chains within our suppliers by means of the audits remains difficult, the audits by EcoVadis enable VodafoneZiggo to get more and more grip on them. 
The impacts of these audits are increasing each year. In 2021, EcoVadis audited and enrolled just under 200 of our top 500 suppliers. Enrolled means that after the first audit has been carried out, a supplier's results are updated in a KPI dashboard for sustainability. That dashboard allows us to track the progress of each supplier. If a supplier is displaying insufficient growth in terms of sustainability, we will initiate a discussion with them in order to address any problems and to agree some positive changes. Not only does this create greater awareness among our partners about working sustainably, but our hope is that it will enable us to achieve an increasingly close collaboration with innovative, sustainable and ethically responsible partners.   
| | | | | |
| --- | --- | --- | --- | --- |
| | Target 2022 | Target 2021 | Result 2021 | Result 2020 |
| Total expenditure paid to suppliers who have completed the EcoVadis assessment | € 1,100 million | € 900 million | € 850 million | N/A |
| % of top 250 suppliers in EcoVadis (in '22, top 500) | 75% | 70% | 78% | 21% |
Our ambition to include social criteria in future tender processes represents a further step forwards. By the end of 2022, half of our tenders will include criteria of that type and by 2024, that proportion ought to have increased to 90%. It is not yet clear whether, on average, we will be able to assign a higher weighting than 15% to those criteria, but our purchasing team certainly wishes to do so. This would actually increase the impact of purchasing on sustainability even further. 
What is more, the same purchasing team working in tandem with EcoVadis intends to almost double the number of suppliers enrolled with EcoVadis in 2022. We also want to penetrate deeper down the supply chain ladder and include more subcontractors in the audits. At the moment, we are primarily doing this by monitoring the EcoVadis score of those suppliers in relation to sustainable purchasing. The result: more than 1 billion euros will have been monitored by the end of 2022. We are also encouraging an ever wider group of suppliers to take the correct, sustainable decisions.