We inspire and activate our employees
Our people are playing a key role in the transition towards a more sustainable VodafoneZiggo. That is why we are investing a lot of time and energy in order to inform, involve and inspire them. One of the ways we have done this was by organising our annual People Planet Progress festival for the second time in 2021. A lot of attention was devoted to the environmental impact that we having collectively and individually. An important way we can reduce that impact has to do with our day-to-day mobility, as it accounts for a large proportion of our overall CO2 emissions.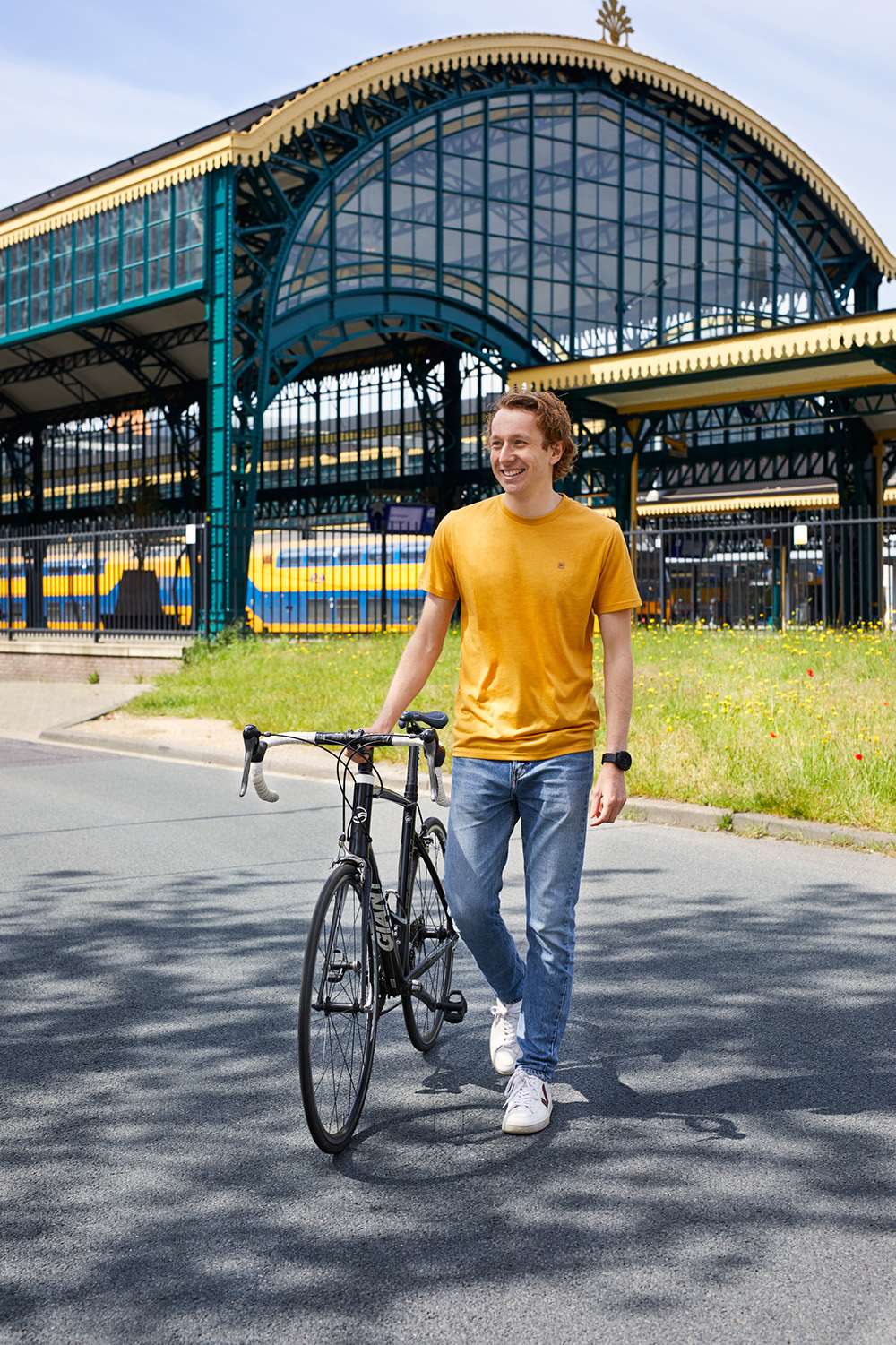 Together with thirty other leading companies in the Netherlands, we are active within the Anders Reizen (Travel Differently) coalition in order to promote sustainable mobility. We encourage our employees to travel from home to work by public transport as much as possible.  To that end, all staff at our offices and in our shops receive an Dutch Railways (NS) Business Card and our latest offices are located within walking distance of a railway station. Depending on the season ticket selected, our employees can benefit from advantages such as a 40% reduction for three people travelling together on off-peak services, or a NS Vrij Reizenkaart (Unlimited Travel Card) for use in First Class. This was one of the factors that has enabled us to drastically reduce the number of leased cars used by our employees and to drive down the CO2 emissions caused by passenger cars by 14% in recent years. Our overarching ambition is a completely 'fossil-free' fleet of cars. In order to achieve this, we will only be supplying electric lease vehicles to our employees on the move from 2022 onwards. 
The cleanest journey is an unmade journey We were the first company in the Netherlands to announce a long-term policy of hybrid working which therefore also includes the period after the pandemic has ended. By aiming to ensure that our employees spend half of their time working from home, we will be able to drastically reduce our travel movements – and therefore also our emissions.  
ON THE MOVE IN AN ENVIRONMENTALLY-FRIENDLY WAY
The size of our vehicle fleet is therefore continually shrinking, but one section of our workforce cannot do without a vehicle. These include our fault technicians who need to be on-site as quickly as possible whenever problems arise. We are, however, in a position to achieve some smart savings in that regard. For example, technical support is increasingly being provided remotely. By carrying out checks and talking customers through the steps that need to be taken, the need for a technician to visit the customer's home can sometimes be avoided. In 2021, we managed to reduce our CO2 emissions by 6% by travelling less. 
Together with our installation partners, Circet and Guidion, we are trying to ensure that our essential visits to customers will ultimately be carried out in a 100% environmentally-friendly way. First of all, we are taking initiatives to reduce travel distances and to drastically reduce the emissions per kilometre. We are also carrying out experiments using vehicles powered by alternative forms of propulsion, such as hydrogen, and electric vehicles. And in the major cities, we will increase the use of the SunRider: an electric cargo bike fitted with solar panels. This is an innovative solution that not only saves a lot of emissions, but often also saves time, as we can reach our customers more quickly.